What online stores accept pay by check online: In the United States,most of the stores accept pay by check online.you can either mail your check or else electronically sending your check is also accepted by many.
Some popular sites like best buy and Cabelas accept these type of checks.However you should be very careful regarding the transaction.
What online stores accept pay by check online
---
Here are the Online stores that accept checks as payment:
1. Photo Video B&H 
To pay by personal check, follow these steps: call B&H's customer care line at (800) 952-3386. When you contact, B&H will generate a quotation and provide you with instructions on how to write your quote number on a check and mail it to them. They can link the payment to the transaction. 
2. Walmart 
Through the Pay with Cash service, Walmart.com accepts checks. When placing an online order, choose "Pay with Cash" at the checkout. Then go to their nearest Walmart or any other retailer and pay with a personal check. After payment is received at the register, the purchase will be shipped. Please keep in mind that not all items accept cash payments.
3. Appliances Connection
To make a personal check payment, call (800) 299-9470. The purchase will be sent as soon as the check clears (which usually takes approximately a week). 
4. Amazon 
To pay by personal check you have to do is choose "add a checking account" at the Shipping & Payment step of the checkout procedure. After that, you'll be prompted to provide your routing number, account number, name, address, and driver's license or state ID number. 
5. eBay 
Personal checks can be used to pay for items in specific categories such as Motors or Real Estate, or for items that must be picked up in person. Sellers can also offer to accept personal checks for items in specific categories such as Motors or Real Estate, or for items that must be picked up in person.
If the seller has decided to accept personal checks, this will appear as a payment option after making a successful bid on an auction item or checking out for fixed-price products.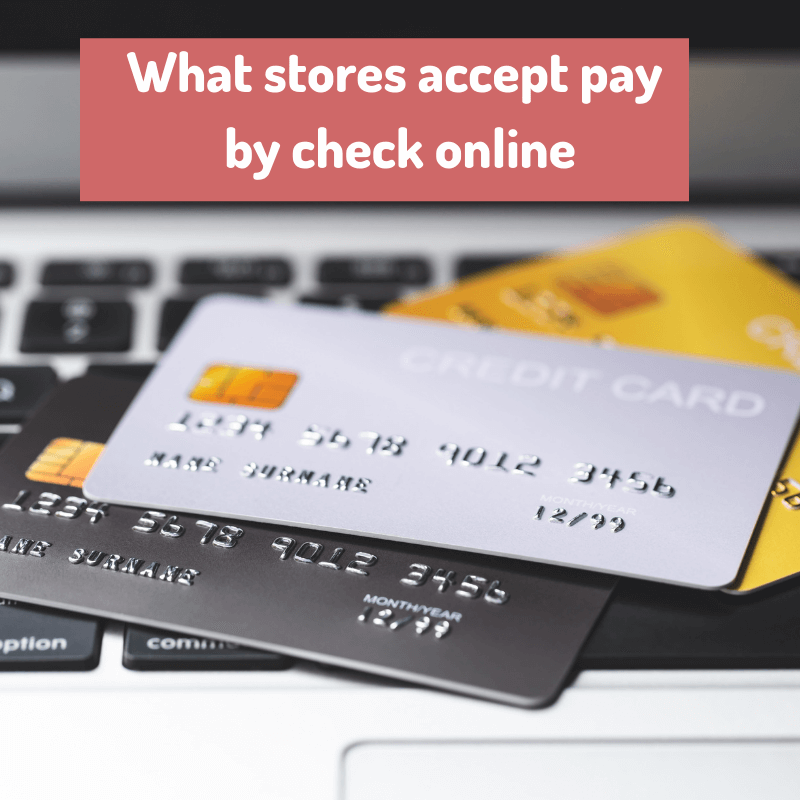 6. Foot Locker 
To pay by personal check, follow these steps: Print the Mail-in Order Form and include it with your personal cheque. Checks for more than $500.00 are not accepted. Checks must include the following information: 
(1) must be made payable to Foot Locker
(2) must be received within 15 days of the check's date
(3) must have your name, street address (no PO Boxes), and daytime phone number written on the check.
If your name, address, and phone number are not printed on your check, you should print them in the upper left-hand corner and before any modification. Checks must be signed by the same person whose name appears on the check. All personal checks must be address-verified, bank-verified, and Certegy-screened. If your bank returns your check for insufficient money, Foot Locket will charge you eService fee of $25
7. Samsung 
If you choose to pay by check, money order, or wire transfer, you will be given instructions on how to send your payment when you place your purchase. 
8. SmartBargains 
Select the option to pay by check at the checkout. Make checks payable to SmartBargains.com and mail them to SmartBargains.com, 101 S State Road 7, Suite 201, Hollywood, FL 33023, Attn: Accounting Dept. Remember to include your full name and address. It must be printed on the check's front. Once your check has been received and verified, your order will be delivered.
9. QVC 
When checking out, select "check/money order," continue, and then "place order" on the last screen. QVC will provide you the address to send your check to as soon as you place your order online, as well as the order number, which you must enter on your check. It should be noted that in order to pay by check, the client must check out using their password. The order will be lost if QVC does not receive the check within 10 days.
So these are the complete list of stores that accept payment by cheque online. If you like this blog then share with your loved ones and family members.