Happy Birthday Wishes for Brother with 140 Characters: Happy birthday wishes are the best way to say to brother how much you love them and care for them. Even with friends and relatives, you can send quotes to your loved ones and wish them a happy birthday. Meaningful wishes from loved ones definitely make anyone feel quite happy on their big day.
A lot of beautiful and lovely quotes are present on the internet which you can check and send it across to the birthday boy or girl. Many people also get these quotes printed on t-shirts or mugs and gift it to their dear ones. Some people also send them on their Facebook timelines.
Happy Birthday Wishes for Brother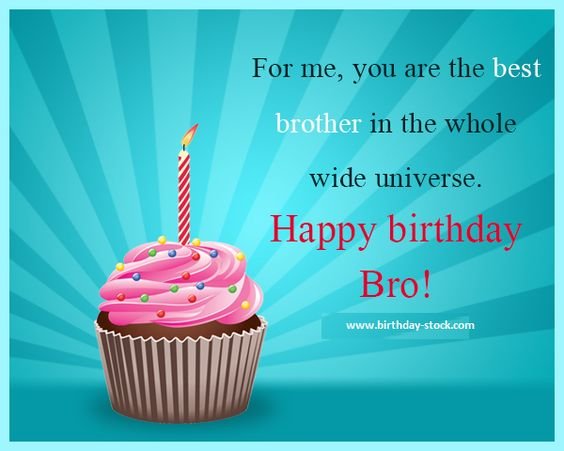 Happy birthday to the brother who constantly supported me on my bad days. You are indeed a superhero and I wish you all the luck in life. Stay blessed.

Life offers us so many blessings and a brother is one of them. Happy birthday, brother.

Protecting the little sister from worries and strangers are his duty. He will act like he does not care but he always had and always will. Happy birthday, brother.

Wishing my brother a very happy birthday, it is a special day not just for you but for us both. The best brother title definitely goes to you. Enjoy the day.

A brother's arms will always be there in the hours of need. Happy birthday to the best brother ever.
Birthday Wishes for Brother
I saw you on your worst and i am seeing you on your best. Happy birthday brother, keep on shining bright.

Even if the world is against you, i shall be there for my you my brother. Happy birthday young one.

We grew up together having all the sweet childhood memories. You have been my best friends since then. Happy birthday to my loving brother.

I always knew I was not alone because I have you, and today is the day when you came to us. Happy birthday, brother.

Your birthday reminds me every year that i need to work hard to see you accomplish your goals brother. Happy birthday.

My brother's birthday is the best day in the year and i want you to celebrate it with enthusiasm. Happy birthday lad.

Happy birthday brother, let life guide you to the path of success and happiness.

The bond between a brother and a sister is something which is so beautiful even a mother can not describe. Happy birthday brother, may you shine in life and get happiness in everywhere you go.

You have always silently loved us and protected us even when you were miles away. This truly shows what a brother always does for the family. Happy birthday, superhero. Shine brighter in life.

You were there to pick me up when I fell and broke my bones and you are still there to pick me up when I fell and broke my heart. Happy birthday to my brother who is my caregiver.

Happy birthday to the person whom i hate and love at the same time. Cheers to your madness brother.
Also See: 
Birthday gift ideas for a 60 year old man
Importance of simple birthday wishes
Happy Birthday Wishes for Brother
Happy birthday brother. Make it large and don't forget to have all the cake on your face.

Happy birthday, today is the day you when you can go on throwing tantrums and i won't mind it at all.

Happy birthday brother, your sister is very proud of you. Keep working hard.

Brothers are the shoulder if every family who silently takes up the responsibility of protecting everyone from any evil. Happy birthday, brother.
Where to post these messages?
When you want to send across these messages to your friend or cousin on their birthday, there are several ways of doing so in a meaningful manner.
Printed t-shirts: Getting the messages printed on t-shirts is a very popular way to say what you feel. This is mostly seen among couples who want to wish their partner a very happy birthday and that too in a nice and lovely style. Parents can also gift printed t-shirts to their small babies or kids with nice birthday quotes marked on it.
Mugs: Another way of saying what your heart feels about your family member is to get the message printed on a mug. This is best for those who are coffee or tea lovers. So if your cousins, lover or parents love to drink every now and then, you can get a nice happy birthday quote printed on their mug. These days, many mugs come which show the message only when something hot is poured in them.
Post on social media: Yes, you can post your favourite message on social media sites and wish them a great day ahead. With a cute message, you are definite to get a lot of likes and the birthday person will love it. These quotes are becoming very popular by the day and people love to write it on the wall of different social media websites like Facebook, Twitter, LinkedIn, etc.
Birthday quote on jewellery: Many customised jewellery shop owners also make bracelets, necklaces with birthday messages stating how much you love a person and how you want to make them feel special on their birthday. These options can be selected both for boys as well as girls. So if you are high on budget, you can easily get any of the beautiful quotes printed on the jewellery which the person is sure to remember for life.
Message in a bottle: If its your husband or wife's birthday, then you can definitely write a lovely quote on a piece of paper, put the message in a bottle or a glass jar and decorate it beautifully. Let them open the gift and read the wonderful quotes you have written for them.
You can also check:
Simplest way to wish a friend on her Birthday
Happy Birthday Wishes for Colleagues
The special things done for anyone on their birthday will be a great way to make them feel special. And we hope you like these Happy Birthday Wishes for Brother. Give your comments below.